Roasted Garlic & Kale Soup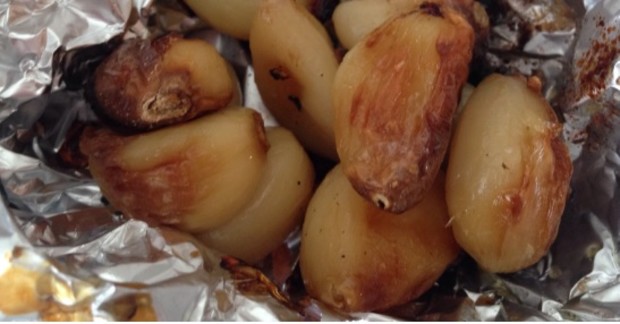 1 1/2 large Red Dog Farm Garlic heads
2 Tbsp. olive oil, plus more for serving
1 medium Red Dog Farm leek, cleaned and thinly sliced crosswise
1 bay leaf
1 1/2 tsp finely chopped fresh rosemary leaves
Kosher salt
Freshly ground black pepper
1 medium potato, peeled and medium dice
1/4 teaspoon smoked paprika, plus more as needed
2 cups broth
1 bunch kale, stems removed and leaves cut into slices (about 2 cups)
1/2 cup water
Heat the oven to 375°F and arrange a rack in the middle. Peel any loose outer skins from the garlic heads and cut off the top quarter of each head to expose the cloves. Place the garlic heads, cut side up, on a large piece of foil, drizzle 1 tablespoon of the oil over all 3 heads, and wrap tightly to form a foil packet. Place the packet on a baking sheet and bake until the garlic cloves are golden brown and very tender, about 60 to 75 minutes. Remove from the oven, open the packet, and let the garlic sit until cool enough to handle. Squeeze the roasted cloves from their skins and place in a small bowl; set aside.
Heat the remaining oil in a large saucepan over medium heat until shimmering. Add the leek, bay leaf, and rosemary, season with salt and pepper, and cook, stirring frequently, until the leeks have begun to soften and the herbs are fragrant, about 4 minutes. Add the potato, roasted garlic, and paprika, season with salt and pepper, and stir to combine. Cook, stirring occasionally, until a bit of crust begins to form on the bottom of the pan, about 10 minutes. Add the broth and, using a wooden spoon, loosen the crusty bits from the bottom of the pan. Reduce the heat to low, cover with a tight-fitting lid, and let simmer until the potatoes are knife tender, about 15 minutes. Discard the bay leaf and remove the pan from the heat.
Using a blender, purée the soup in batches until smooth, removing the small cap from the blender lid (the pour lid) and covering the space with a kitchen towel (this allows steam to escape and prevents the lid from popping off). Place the blended soup in a clean saucepan. (Alternatively, you can use an immersion blender to purée the soup in the original saucepan.)
Return the soup to a simmer over low heat. Add the kale and water and stir to combine. Cover and cook, stirring occasionally, until the kale is tender but still brightly colored, about 10 to 12 minutes. Taste and add more paprika, salt, and pepper as needed.
Ladle the soup into bowls, drizzle with olive oil, and season with pepper.