Welcome to Red Dog Farm
Settled in the fertile Center Valley of Chimacum, Washington, Red Dog Farm boasts gorgeous views, salmon-bearing creek frontage, and prime growing conditions. We are certified organic and grow over 150 different varieties of vegetables, berries, cut flowers and plant starts on 23 acres.
Our produce is sold locally at Port Townsend and Chimacum farmers markets, our CSA program, our fabulous self-serve Red Dog Farmstand, and through various retailers and restaurants.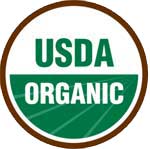 We're Certified Organic!
Red Dog Farm is certified organic by Washington State Department of Agriculture. We use only organic approved, naturally-derived fertilizers, soil amendments and pest control. We practice soil conservation techniques such as crop rotation, cover cropping, and minimal tillage and we source organic seed as much as possible.
We're Now Salmon-Safe Certified!
Farming in cooperation with the natural world has always been part of the mission at Red Dog Farm and we are very pleased to have qualified under the Salmon-Safe program. To be a certified farm, a third party auditor conducted a study of the farm to determine the positive and negative impacts the farm operations has on salmon and salmon habitat. They looked at factors such as excessive nutrient run-off, conservation irrigation practices, and habitat enhancement along the creek. Red Dog Farm passed with flying colors. We're honored to be farming alongside Chimacum Creek and the coho and chum salmon who swim and spawn there.
Purchasing Organic Produce from our Farm
Organic produce from Red Dog Farm is sold at the Port Townsend Farmers Market, Chimacum Farmers Market, through our CSA, and at various local restaurants and stores. Or, you can purchase all your favorite vegetables, berries, and flowers at our self-serve farmstand. The Red Dog Farmstand is open year-round 8am- 8pm seven days a week. Click here for directions to the farm.