Our Staff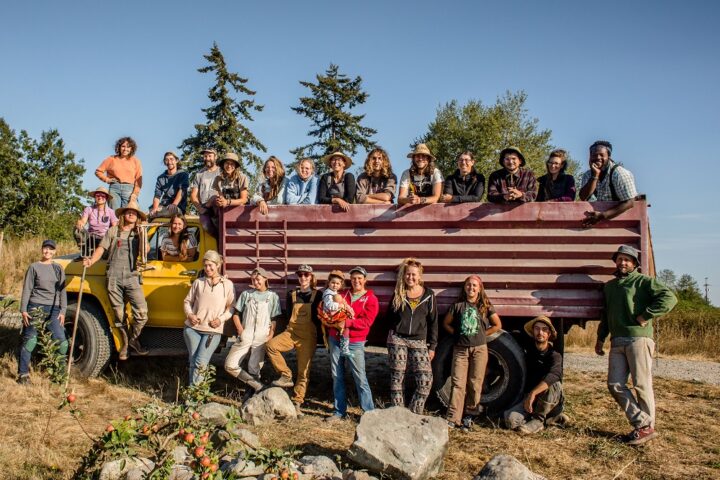 The 2022 Red Dog Farm Team!
Top row, L to R: Máti, Darren, Daniel, Kayla, Nicole, Paige, Laurel, Ben, Cormac, Rachel, Tyler, Cindy, Ryan.
Bottom row, L to R: Heather, Alex, Natalie, Kellie, Eli, Ash, Delphine, Karyn, Emma, Julia, Henry, Lane.
We're hiring for our 2023 crew!
Check out our Hiring page for more info. Thanks for your interest!
Karyn Williams- Owner/ Operator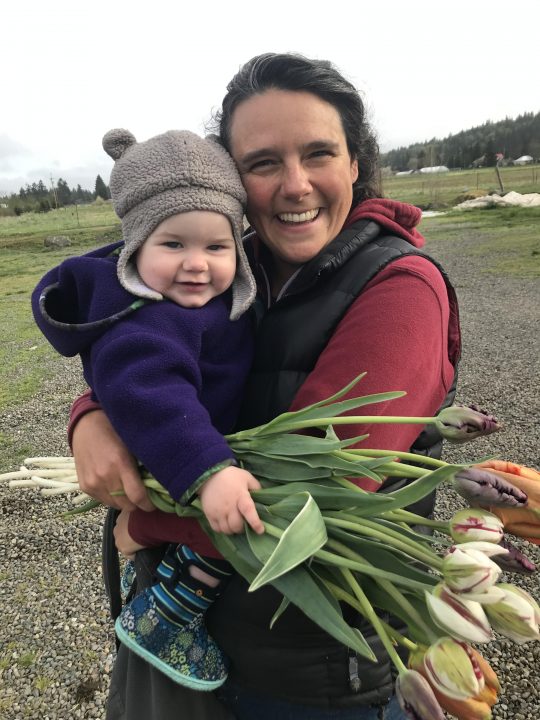 Karyn's farming career began in 1998 when she moved to Spain to WWOOF (international volunteer program) on organic farms. There she fell in love with the slower pace and exceptional food of the rural lifestyle. After two years abroad farming in Spain, Portugal, Morocco and England, Karyn returned to the U.S. to pursue a degree in agriculture. Karyn graduated from the Evergreen State College in 2003 with a Bachelor of Arts and a Bachelor of Science in Sustainable Agriculture.
Karyn has worked on vegetable farms, both cow and goat dairy farms, sheep farms, poultry operations, and a container plant nursery. After working on farms for seven years, in 2005, Karyn started her own farm business (Old Tarboo Farm) in Quilcene. After two years leasing land in Quilcene, she decided it was time to purchase her own piece of earth and began her search. In early 2007, Karyn found the piece of property which is now Red Dog Farm. Karyn started out leasing the land from Jefferson Land Trust in a creative lease to own ground lease agreement. In 2011, Karyn purchased the land.
Since her early farming days, Karyn has developed a true passion for production farming. She loves growing tons of vegetables to feed her community. Karyn's life goals of health, community and sustainability keep her grounded in her farming path. When she's not farming, Karyn enjoys spending time with her husband and daughter, doing yoga and puttering in the kitchen.
Contact Karyn: karyn@reddogfarm.net
Natalie Smith – Farm Manager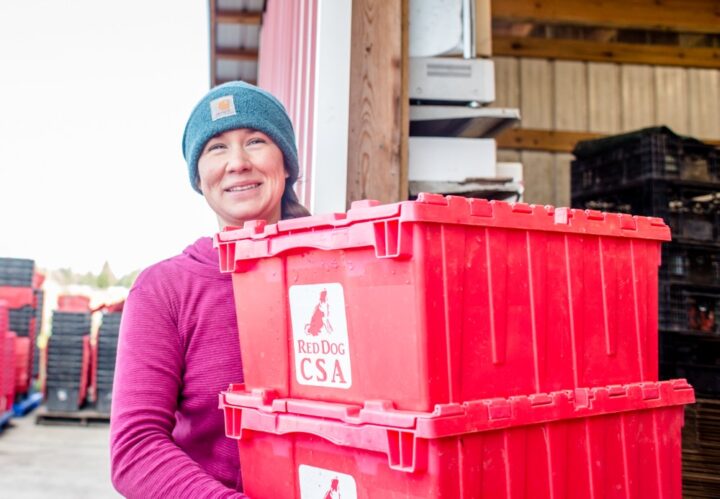 Natalie came to Red Dog through her interest in nutrition and local food systems after spending time at a farmers market non-profit in Colorado and volunteering in various food-related capacities. She still enjoys cooking, especially when it involves winter squash, alliums, or black radishes. Her dog, Peter Bob, enjoys taking her for walks on the beach. Transplanting is her favorite farm task.
Contact Natalie: manager@reddogfarm.net
Alex Pujol – Harvest Manager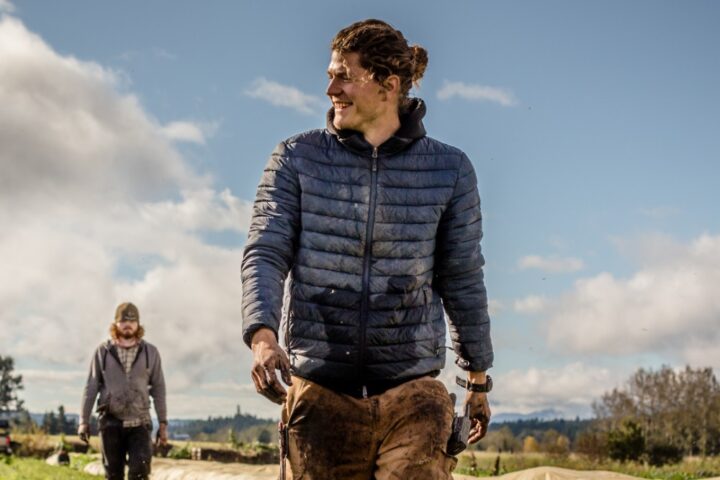 Alex is passionate about supporting local businesses and eating food that was grown locally and sustainably. He grew up in Central California, and enjoyed eating the honey and admiring the flowers at his grandda's nursery and bee farm in Argentina. Today, he enjoys harvesting cauliflower – his favorite veggie – as well as hiking with his dogs and enjoying a local coffee with a good book.
Rachel Covault – Office Manager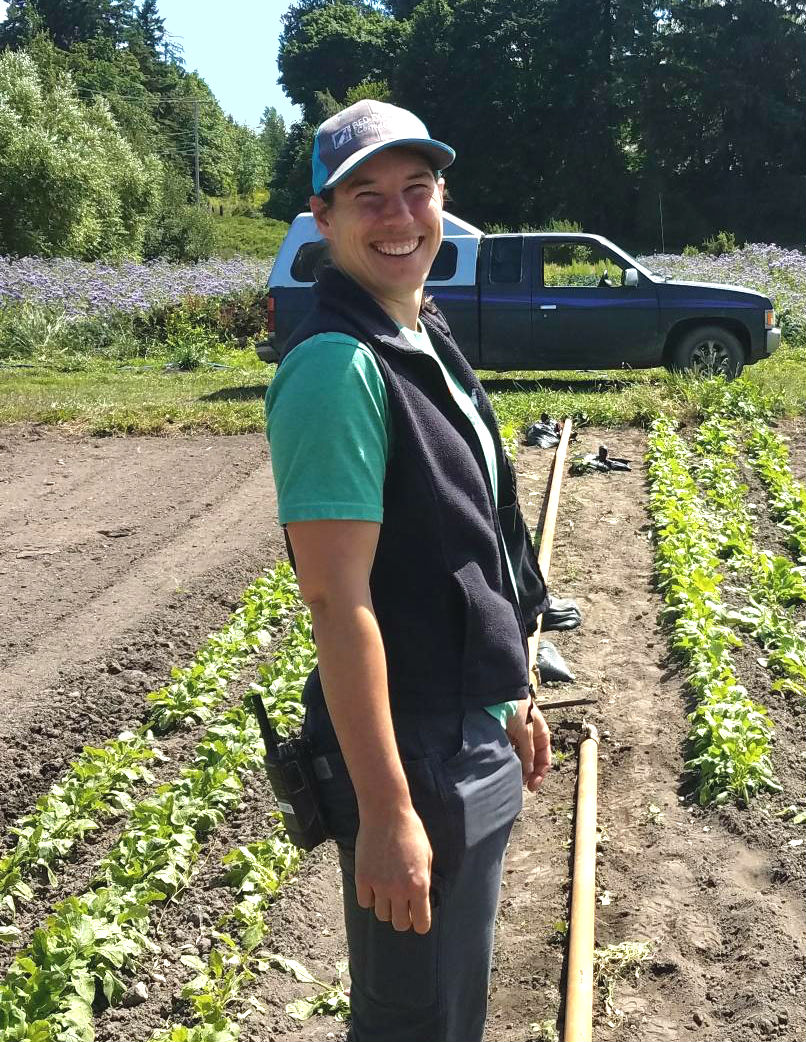 Rachel grew up in Wisconsin, where her mom planted a respectably large vegetable garden and told stories of growing up on a farm in Michigan. Rachel fell in love with the Olympic Peninsula and its myriad hiking trails nine years ago and now spends as much time as possible hiking and getting to know the native plants in her garden, when she's not hanging out with her two young nieces or her cats. On the farm, she enjoys the challenges of bringing organization to the sometimes chaotic world of farming. She believes that eating a fresh carrot is one of the greatest joys in life.
Contact Rachel: office@reddogfarm.net
Henry Frishholz – Production Manager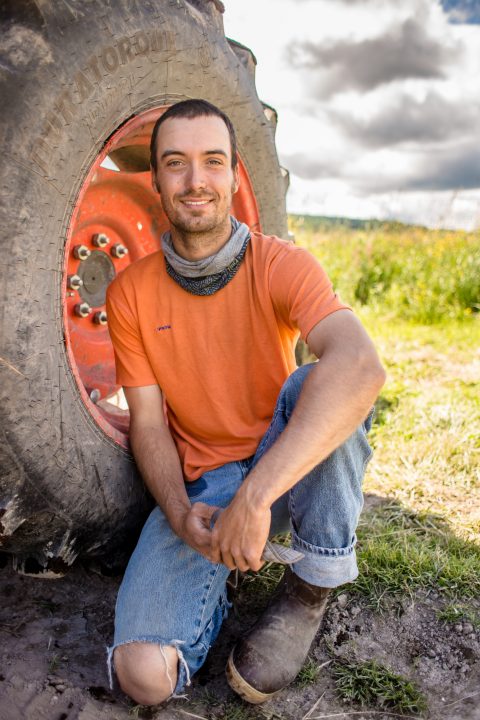 Henry grew up in Western Washington and last worked on a ranch in Southern Chile before coming to Red Dog Farm in May 2020. On the farm, Henry likes to drive the tractor, harvest veggies and hang out with the pigs. After work, he likes to ride his bike, play basketball and cook. His favorite vegetable is garlic.
Julia Callahan – Greenhouse Manager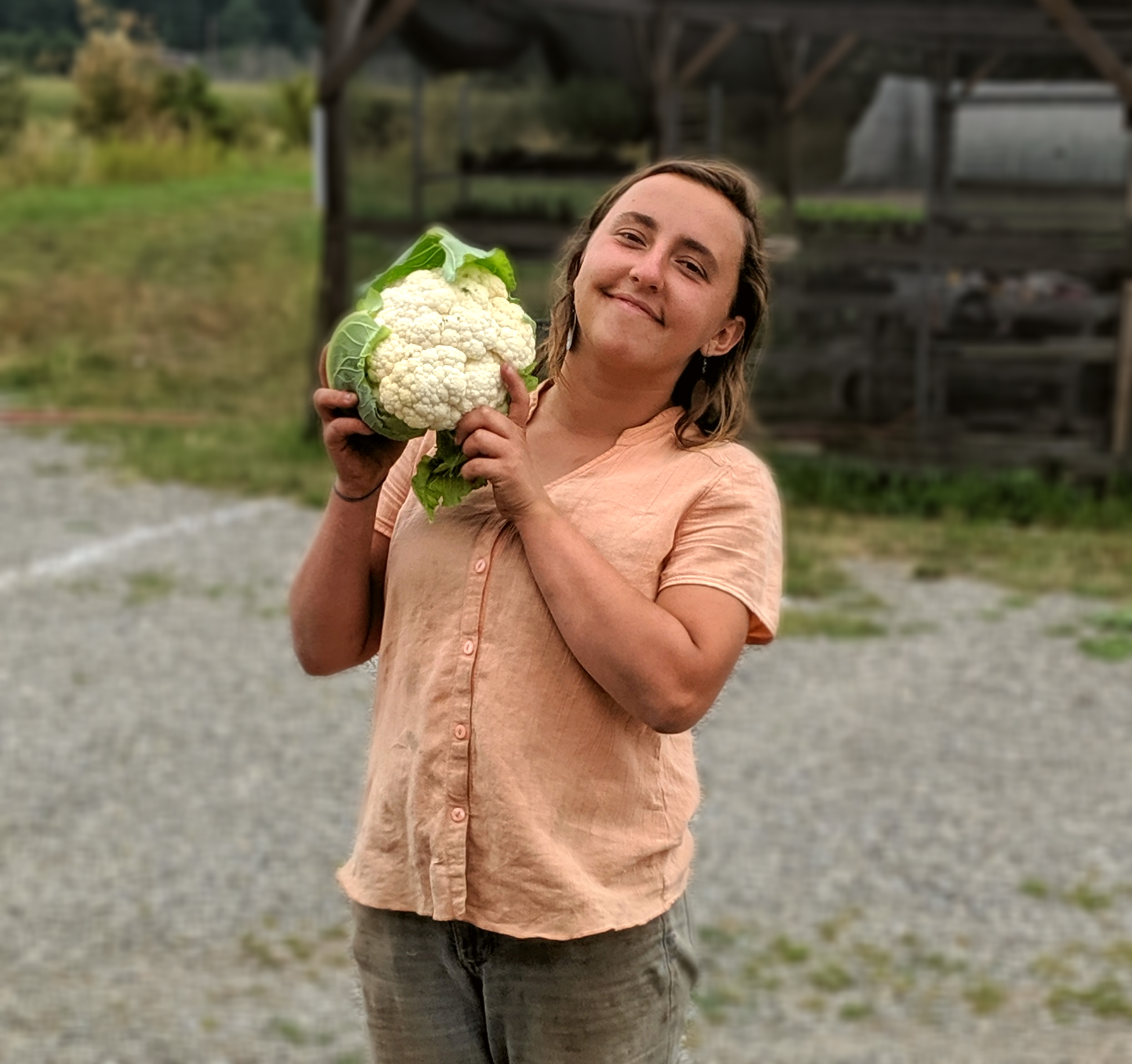 Julia grew up on the East Coast and dipped her toes into farming while living in Upstate New York. This is her fifth season with Red Dog. She also enjoys harvesting cabbage and riding the transplanter roller coaster. In her free time, she enjoys watching her cat interact with the world, cooking up delicious Red Dog vegetables, playing in a recreational tennis club, making puns, and enjoying the company of all the lovely people that make up Red Dog Farm. Her favorite vegetables are pickles and cabbage.
Máti Beavers – Farmers Market Manager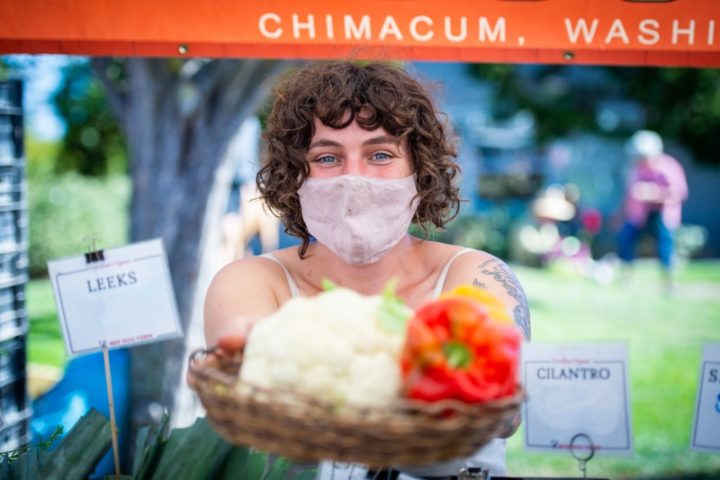 Máti moved to Chimacum in the spring of 2021 from Virginia to work with Red Dog Farm. She loves cooking and can happily spend countless hours creating in her kitchen. She loves to talk about food and is like a walking recipe book! She finds it hard to pick just one favorite vegetable, but she believes it would be hard to live without squash, fava beans and garlic. When not farming, she is making art (specializing in stained glass windows) or looking for peace and beauty in nature, her garden, her kitchen or a good book. Some of the simplest joys in her life are her pup Amelia and flipping around on a trampoline.
Paige Taylor – Packshed Lead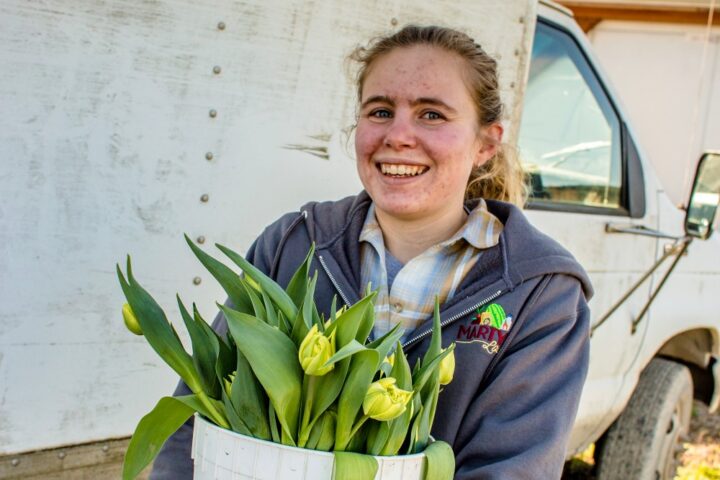 Paige comes to us from Maine, and has spent time on farms in Massachusetts and Hawai'i. As our Packshed Lead, her specialty is making our produce look beautiful. Bunching tulips is one of her favorite ways to do this. She is passionate about growing food for our community and loves seeing our produce around town. Off the farm, she spends her time hiking, camping, rowing, and cooking.
Jon Toof – Maintenance Specialist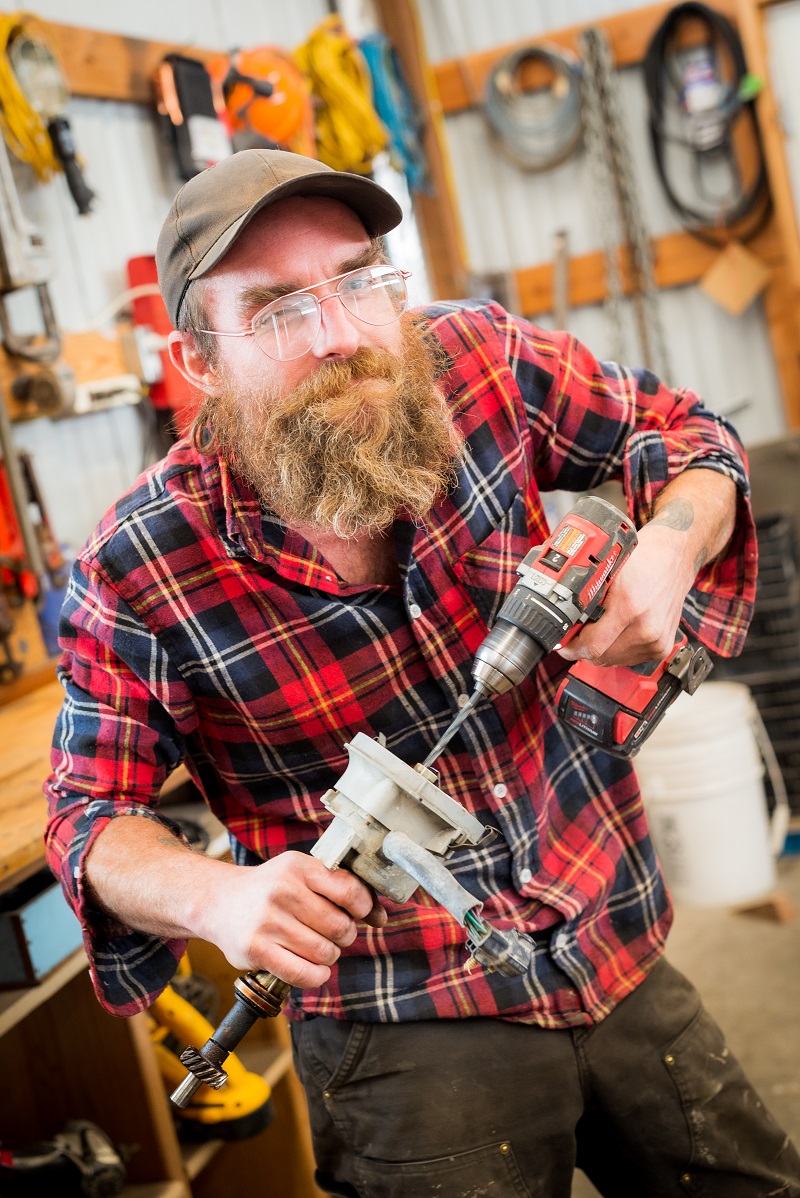 Born in Portland, Maine, Jon joined our team in the summer of 2021 to help keep our trucks, tractors, and other farm equipment in working order. Fortunately, he enjoys changing oil. Outside work, he appreciates music and likes to write. Cabbage is his favorite veggie.
Cormac Sullivan – Production Specialist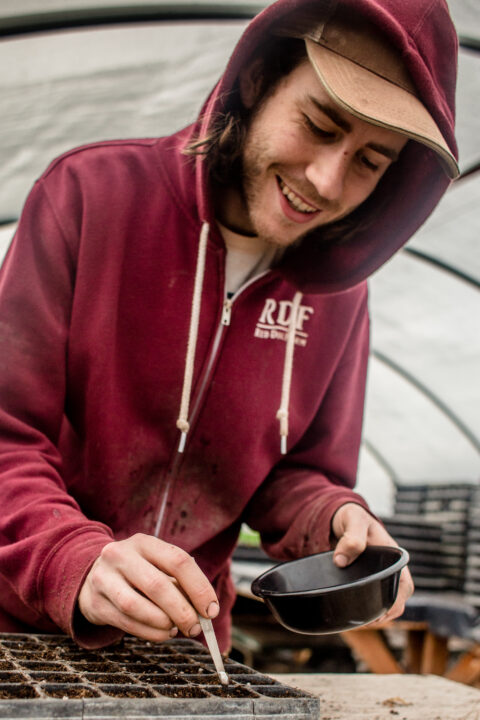 Growing up, Cormac spent his summers on his mom's farm/ranch in north-central Montana and joined the Red Dog crew for our 2021 season. He especially enjoys harvesting romanesco, using the barrel washer to clean roots, and moving irrigation pipe. He often sings in the field to keep morale high (even though he suspects he's not a very good singer!). Off the farm, he loves to get outside into the woods as much as possible. Cooking is another of his hobbies, especially when he gets to use romanesco, snap peas, garlic, or shallots.
Maggie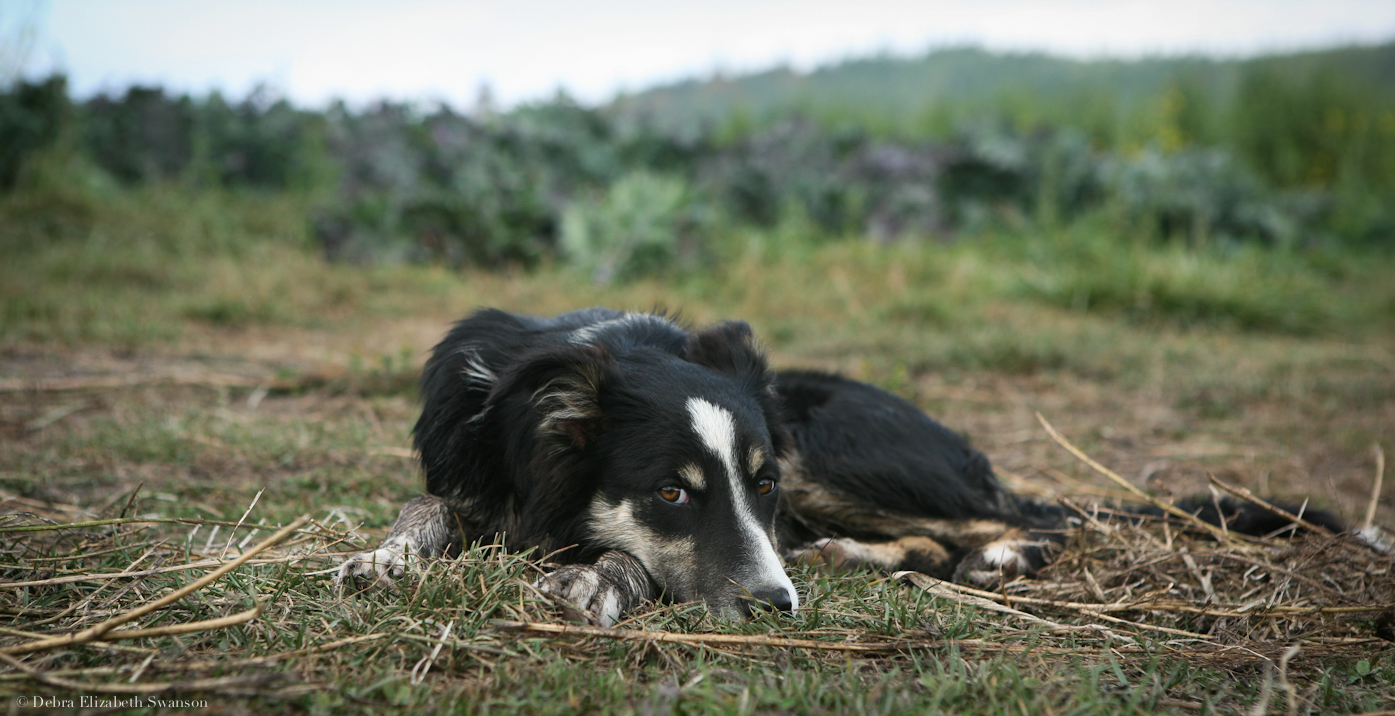 Maganita 'Maggie' Rose was born in the Spring of 2012 and is the daughter of red dog, Rupert, and a neighbor border collie. She was named after a much-loved lettuce variety we grow here on the farm. As a puppy, she spent hours napping in the greenhouse as we seeded her namesake lettuce on tables above her. Maggie takes her farm jobs very seriously; she specializes in alerting us when anyone comes onto the farm, and has also taken over bird-herding and rodent patrol duties.
Rupert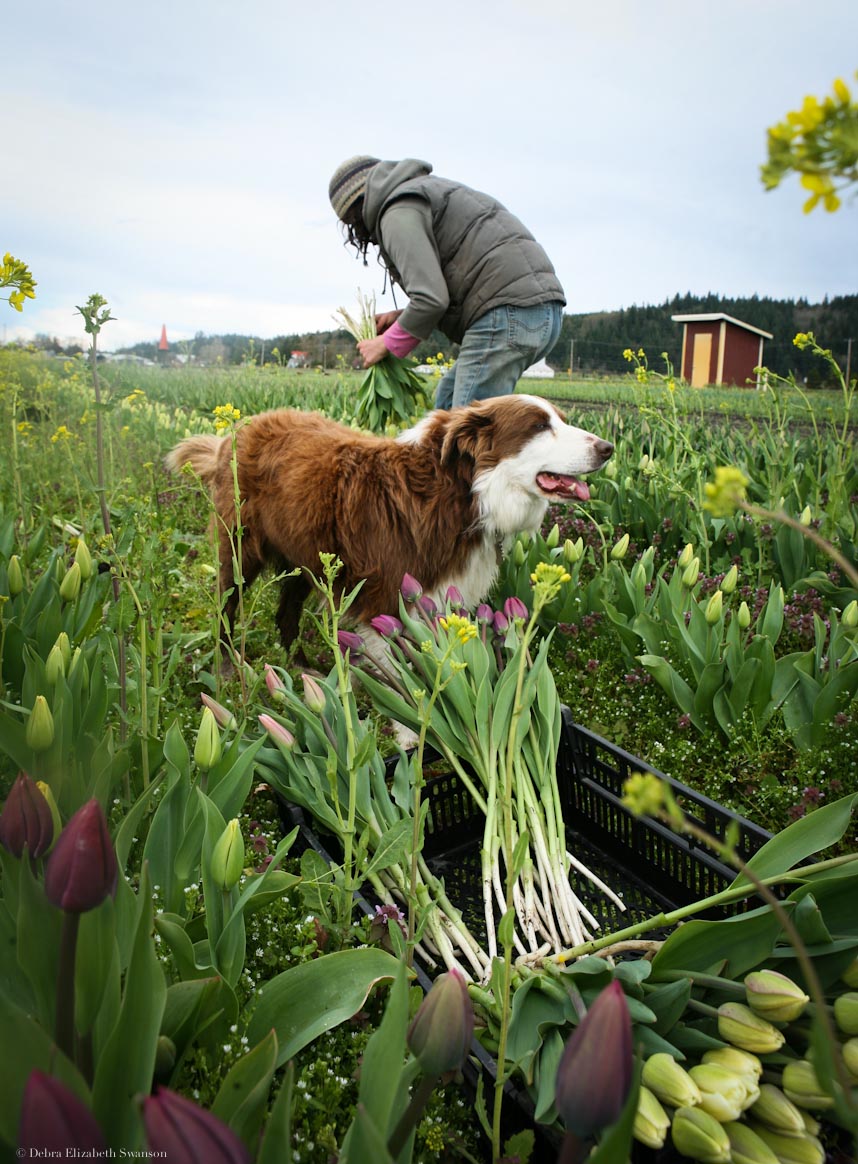 2005 – 2017. Rupert 'Ru' Dandelion was the red dog and the farm's namesake. Rupert was a red border collie, a natural variation in the breed. He had been with Karyn since he was a pup and was named for the abundant golden yellow dandelions in bloom at that time. Rupert spent 13 wonderful years of farm life. He especially loved hanging out with Karyn in the fields, greeting every visitor to the farm, and herding anything that moved. He is dearly missed, though his legacy lives on in the farm, his daughter Maggie, and several other loved farm dogs in the area.