Farmstand Open Daily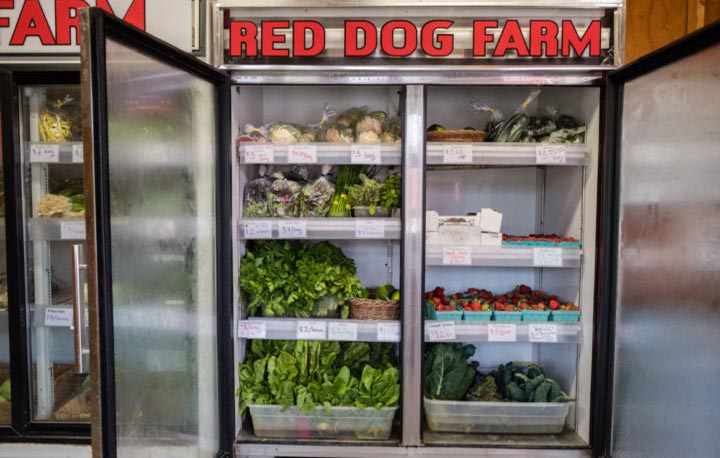 Red Dog Farmstand is open seven days a week, year-round. Our produce coolers are stocked with fresh, seasonal produce always certified organic and 100% from Red Dog Farm. We have plants starts and cut flowers available seasonally. Our self-service honor-style system allows you to shop at your leisure. Forms of payment accepted include cash, check, Venmo, and Cash App.
Products Available
Organic Vegetables, Organic Berries, Organic Cut Flowers, Organic Plant Starts
What is in Stock this Week?*
Arugula
Bok Choi
Carrots, Baby
Chard: Rainbow, Red
Chive Flowers
Chives
Green Onions
Lettuce: Green Leaf, Red Butter
Mint: Peppermint
Mizuna
Mustard, Red
Pea Greens
Radishes: French Breakfast, Red
Rosemary
Sage
Salad Mix
Spinach
Thyme
Turnips, Hakurei
Plant Starts
Flowers

Alyssum
Bachelor's Buttons
Beebalm
Calendula, Orange
Cosmos, Orange
Cosmos, Red
Cosmos, Seashells Mix
Dahlia
Forget-Me-Not
Hollyhock, Black
Lupine, Blue
Lupine, Red
Lupine, Yellow
Lupine, White
Marigold
Moonflower
Nasturtium, Red
Nasturtium, Salmon Baby
Pansy, Pink
Pansy, Yellow/Blue
Pumpkin on a Stick
Rudbeckia, Perennial
Snapdragon
Stock
Valerian
Verbena, Perennial
Zinnia, Bernary's Mix

Sunflowers

Sunflower, Bicolor
Sunflower, Chocolate
Sunflower, Double
Sunflower, Dwarf Red
Sunflower, White

Berries

Raspberries
Strawberry, June-Bearing

Herbs

Anise Hyssop
Basil, Italian
Basil, Thai
Chamomile
Cilantro
Lemon Balm
Lemon Grass
Mint, Peppermint
Mint, Spearmint
Mugwort
Nepeta
Parsley, Curly
Parsley, Italian
Summer Savory
Tulsi

Vegetables

Artichoke
Bean, Bush
Bean, Scarlet Runner
Beets, Red
Broccoli
Brussels Sprouts
Cabbage, Green
Cauliflower
Chard, Rainbow
Corn
Cucumber
Eggplant
Green Onions
Kale, Lacinato
Kale, Red Russian
Leeks
Lettuce, Romaine
Lettuce, Red Butter
Lettuce, Salad Mix
Onion, Red
Onion, Sweet
Onion, Yellow
Peas, Snap
Peas, Snow
Pepper, Mini
Pepper, Sweet
Rhubarb
Spinach
Squash, Delicata
Squash, Yellow Crookneck
Tomatoes, Red Cherry
Tomatoes, San Marzano (Sauce)
Tomatoes, Slicing
Tomatoes, Sungold
Zucchini
*(Updated 5/29/23. We do our best to keep it stocked every day, but there is a chance that we may be out of a particular item at any given time.)
Hours
8am-8pm • 7 days a week • Year-Round
Location
406 Center Rd, Chimacum, WA 98325 (map)
From the Chimacum intersection, turn south onto Center Rd. Take Center Rd. ½ mile to 406 Center Rd. Make a right into the driveway and head for the red barn. Farmstand is the tan building on your left.