Farmstand Open Daily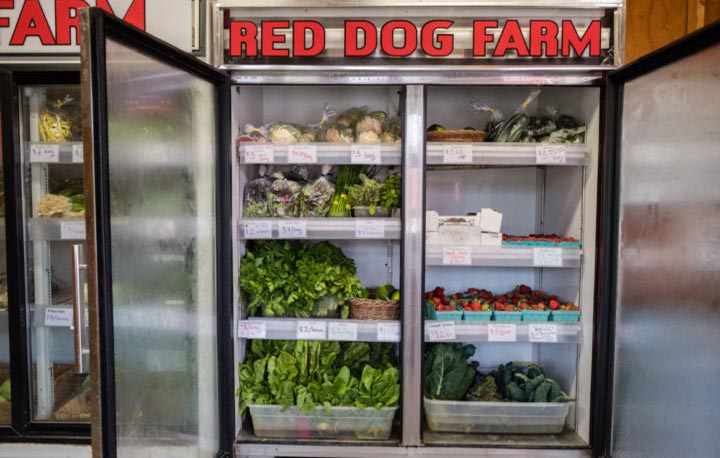 Red Dog Farmstand is open seven days a week, year-round. Our produce coolers are stocked with fresh, seasonal produce always certified organic and 100% from Red Dog Farm. We have plants starts and cut flowers available seasonally. Our self-service honor-style system allows you to shop at your leisure. Forms of payment accepted include cash, check, Venmo, and Cash App.
Products Available
Organic Vegetables, Organic Berries, Organic Cut Flowers, Organic Plant Starts
What is in Stock this Week?*
Beets, Loose: Red, Chioggia, Gold
Cabbage: Green, Red
Carrots: Orange, Purple, Rainbow
Celeriac
Chard: Red, Rainbow
Collards
Fennel
Frisee
Jerusalem Artichokes (Sunchokes)
Kale: Green Curly, Lacinato, Red Curly, Red Russian
Kohlrabi, Green
Leeks
Mustard, Green
Onions: Red, Sweet, Yellow
Parsley: Curly, Italian
Parsnips
Potatoes: German Butterball
Radishes: Black Spanish, Green Meat, Purple Daikon, Watermelon
Radicchio: Chioggia, Castelfranco, Sugarloaf, Treviso
Rosemary
Sage
Salad Mix
Spinach
Stir Fry Mix
Thyme
Winter Squash: Acorn, Buttercup, Butternut, Delicata, Hubbard, Pie Pumpkin, Red Kuri, Spaghetti, Sweet Dumpling
*(Updated 11/28/22. We do our best to keep it stocked every day, but there is a chance that we may be out of a particular item at any given time.)
Hours
8am-8pm • 7 days a week • Year-Round
Location
406 Center Rd, Chimacum, WA 98325 (map)
From the Chimacum intersection, turn south onto Center Rd. Take Center Rd. ½ mile to 406 Center Rd. Make a right into the driveway and head for the red barn. Farmstand is the tan building on your left.