Endive Salad with Warm Dressing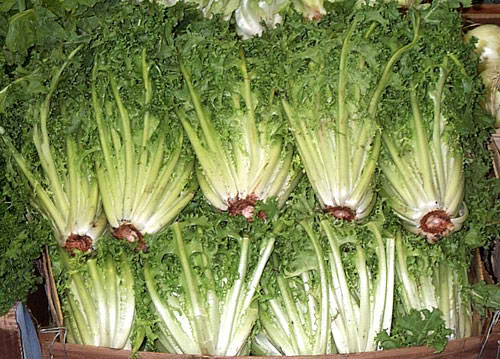 Dressing:
8 cloves Garlic, roasted and peeled
3 tablespoons red wine vinegar
1 tablespoon Dijon mustard
1 tablespoon honey
1 tablespoon fresh lime juice
Salt and freshly ground black pepper
1/2 cup olive oil
Salad:
1/2 lb. Red Dog Farm Endive, washed, dried and torn into bite-sized pieces
1/4 cup Roasted Garlic Vinaigrette Dressing (see recipe above)
Salt and freshly ground black pepper
Half a bunch of Red Dog Farm Radishes, quartered
Parmigiano-Reggiano, thinly shaved
1/2 Red Onion, thinly sliced
Chopped cilantro
Combine the garlic, vinegar, mustard, honey, lime juice and salt and pepper, to taste, in a blender and blend until smooth. With the motor running, slowly add the oil until emulsified.
Place the Endive in a large bowl, add 1/4 cup of the vinaigrette, season with salt and pepper, to taste and toss to coat. Put the radishes in a bowl, add a few tablespoons of the dressing, season with salt and pepper, to taste, and toss to coat.
Divide the endive among 4 to 6 large plates, arrange 3 of the radish quarters around the perimeter of each plate. Garnish with shaved cheese and chopped cilantro. Drizzle with the remaining vinaigrette and serve.