Crisp Roasted Brussels Sprouts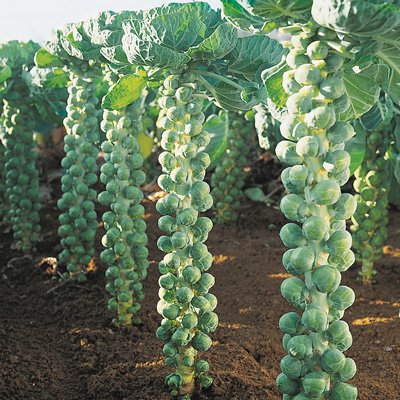 1 tree of Red Dog Farm Brussels Sprouts
½ red onion, sliced
1 ½ Tbsp. olive oil
salt to taste
1 Tbsp. balsamic vinegar
Trim the sprouts from their tree and remove any excess stem or tough outer leaves. Halve each sprout and place into a baking dish large enough for the sprouts to be more or less in a single layer. Toss with the oil and salt and bake at 400◦F for about an hour. After half hour add the red onions, and bake 30 minutes more, stirring occasionally to brown them evenly, or until the sprouts are cooked through and the outer leaves are crispy and brown. They will look almost burnt, but don't worry. Drizzle the balsamic over the warm sprouts, and toss lightly to coat. Serve while still warm, as they'll be at their crispiest right out of the oven. Enjoy with goat cheese for an extra special treat, or pair them with the following root vegetable puree.
Carrot-Parsnip Puree
1 lb. Red Dog Farm carrots, peeled
1lb. Red Dog Farm parsnips, peeled
salt and pepper to taste
2 Tbsp. butter
½ c. cream (optional)
sriracha (optional)
Chop the peeled vegetables into large chunks and boil in lightly salted water until fork tender. Transfer to a food processor and blend until smooth. Return to the pot and stir in butter, salt, and pepper. Add the cream for a smoother, richer puree, and/or sriracha for a slightly spicy version. Pairs well with roasted or grilled meats, caramelized Onions, and roasted Broccoli or Brussels Sprouts.