Collard Wraps with Carrot Hummus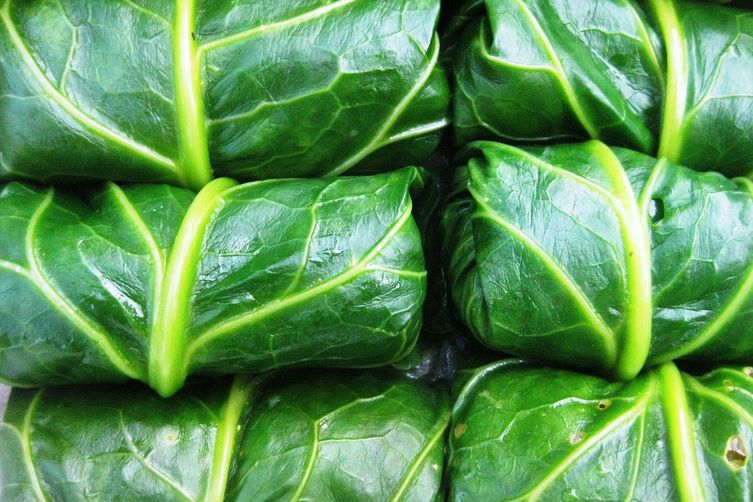 Carrot Hummus: (makes about 1.5 cups)
1/2 teaspoon coconut oil
1 bunch Red Dog Farm Carrots
2 medium (unpeeled) garlic cloves
2 teaspoons harissa seasoning (ground)
1 cup chickpeas (cooked and drained)
juice of 1 small lemon (about 2 tablespoons)
juice of 1/2 an orange (about 2 tablespoons)
2-4 tablespoons olive oil
more harissa, to taste
salt, to taste
Collard Wraps:
4 Red Dog Farm Collard leaves
Carrot hummus
1 cup cooked millet
1/2 cup chickpeas
2 Red Dog Farm Carrots, shaved into ribbons
sliced Red Dog Farm red cabbage (or red cabbage slaw)
sprinkle of hemp seeds
Instructions:
For the carrot hummus: Heat coconut oil in a medium skillet, add carrots, garlic cloves, and a pinch of salt. Cook, rotating occasionally, until the outsides begin to char, about 8-10 minutes. Remove the garlic if it starts to burn. Add the harissa seasoning and let the carrots cook for just a minute longer. Remove from pan and let cool slightly. Peel the garlic.
Chop carrots into 1-inch pieces (it's ok if they're a little raw in the middle). Add the carrots, garlic, chickpeas, lemon juice and orange juice to your high speed blender or food processor. Puree, drizzling in the olive oil as you blend. (Yours might be a chunkier texture if you use a food processor).
Taste and adjust seasonings to your liking. Chill until ready to use.
For the wraps: Trim off the coarse part of the stem. (Note: if leaves are on the bigger side just slice more of the tough stem off).
Optional step: blanch the leaves in boiling water for just a second, then transfer to ice water. Let them dry before assembling. (recommended if your leaves are large and coarse).
Assemble with the above ingredients then roll up and enjoy.