Celeriac Puree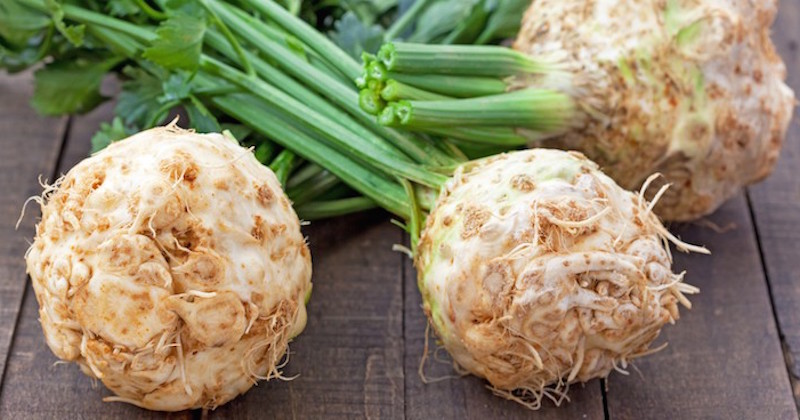 1 head Red Dog Farm Celeriac
1 Tbsp. olive oil
2 cloves garlic, peeled and sliced
2 tsp. kosher salt
1/4 tsp. freshly ground black pepper
3 cups water
1 Tbsp. unsalted butter
2 Tbsp. heavy cream
a few sprigs of parsley to taste
Cut off the bottoms and tops, cut into quarters and peel. Rinse in cool water if there is any remaining dirt or debris. Cut into 1/2-inch thick dice.
Heat the olive oil in a 4-quart saucepan over low heat just until it shimmers. Add the celeriac, garlic, salt and pepper and cook, stirring frequently, just until it begins to soften, approximately 5 minutes. Increase the heat to medium-high and add the water. Bring to a boil and cook until the celeriac is tender and easily pierced with a fork, approximately 20 minutes. Drain the celeriac through a colander and return to the pot. Using a stick blender, puree until no lumps are present, approximately 1 minute. Place the butter and heavy cream into a microwave proof bowl and heat just until the butter is melted, approximately 45 seconds. Add the cream, butter, parsley and continue to puree with the stick blender for another minute. Serve warm.