Cardamom Squash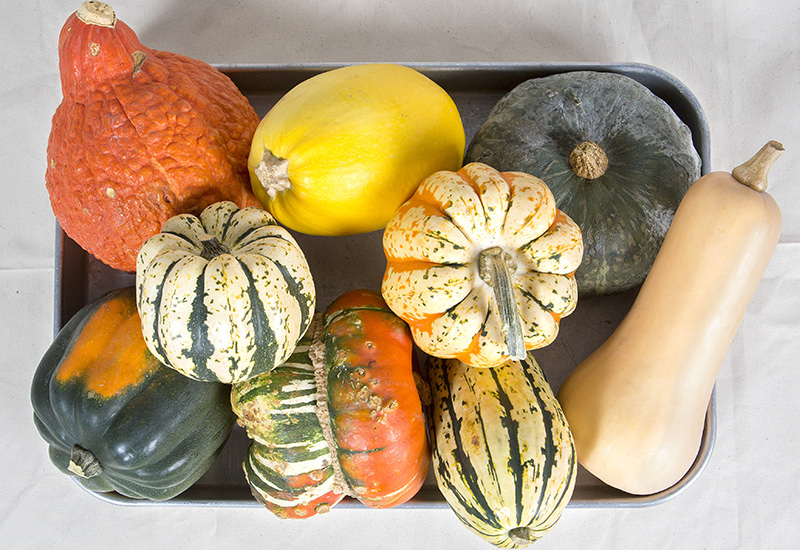 1½ Tbsp unsalted butter
1 Tbsp olive oil
1 large Red Dog Farm Red Onion, halved and thinly sliced (1½ cups)
3 lbs. Red Dog Farm Winter Squash
3½ Tbsp Pumpkin seeds
½ tsp ground cumin
½ tsp ground coriander
¼ tsp ground turmeric
4 cardamom pods, lightly crushed
1 large cinnamon stick
1 green chile, halved lengthwise
1 Tbsp sugar
scant 1 cup stock
¾ cup yogurt
1 Tbsp Cilantro, chopped
Salt
Preheat the oven to 425ºF. If not using Delicata Squash, peel and seed the squash, and cut into 1-2″ chunks.
Place the butter and oil in a large sauté pan over medium heat. Add the onion and fry for about 8 minutes, until soft. Add the squash, increase the heat to medium-high, and cook for a further 10 minutes, stirring occasionally, until it starts to color. Remove from the heat and add the pumpkin seeds, the cumin, coriander, turmeric, cardamom, cinnamon, chile, sugar, and ¾ teaspoon salt. Mix well and transfer to a baking sheet large enough to hold the vegetables in a single but snug layer, about 10 by 12-inches. Pour the stock over the squash and roast for 30 minutes, until the squash is tender. Set aside for about 10 minutes: the liquid in the pan will continue to be absorbed.
Serve warm, with the yogurt spooned on top or on the side, along with a sprinkling of the cilantro.