Braised Potatoes and Escarole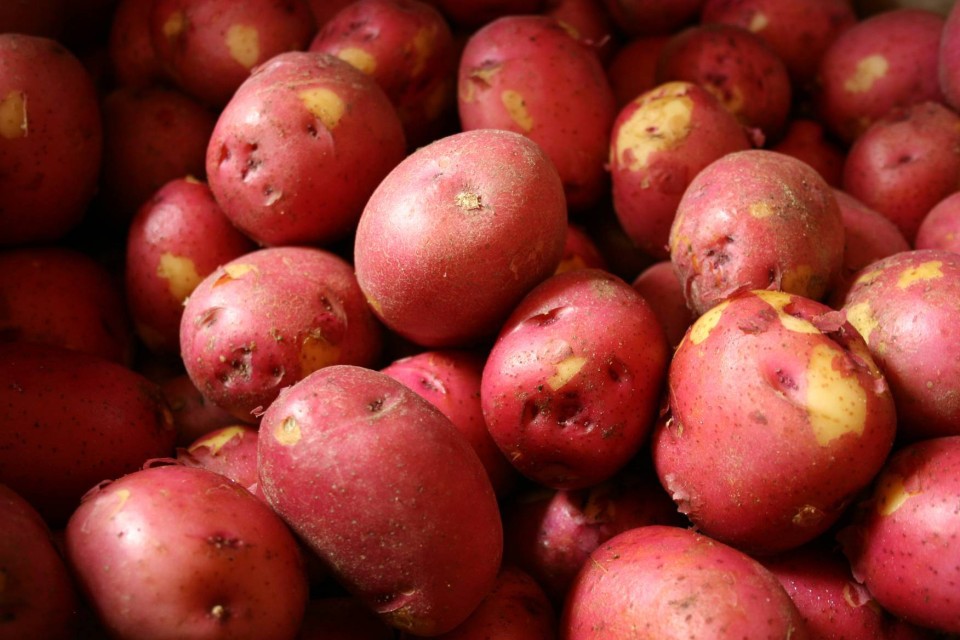 1 Tbs. unsalted butter
1 Tbs. olive oil
1 lb. Red Dog Farm Red Potatoes, chopped
1 Shallot, halved through the stem end and thinly sliced crosswise
2 fresh thyme sprigs
2/3 cup chicken stock
2 tsp. sherry vinegar
1/2 tsp. salt
Freshly ground pepper, to taste
1 head Red Dog Farm Escarole, cored, halved lengthwise and roughly chopped
For the orange vinaigrette:
1 tsp. Dijon mustard
1 Tbs. white wine vinegar
1 tsp. finely grated orange zest
2 Tbs. fresh orange juice
1/2 tsp. salt
Freshly ground pepper, to taste
1/4 cup extra-virgin olive oil
1 orange
In a large fry pan over medium-high heat, melt the butter with the olive oil. When the oil is hot, add the potatoes, cut sides down, and cook without turning until they are beginning to brown, 5 to 7 minutes. Using a slotted spoon, transfer the potatoes to a slow cooker.*
Add the shallot and thyme sprigs to the fry pan and sauté over medium-high heat until golden, about 5 minutes. Pour in the stock and vinegar and stir to scrape up the browned bits from the pan bottom. Stir in the salt and a few grinds of pepper and pour the contents of the pan into the slow cooker. Cover and cook on high for 1 hour.
Stir in the escarole, re-cover and cook until the potatoes and escarole are tender, 30 to 45 minutes more.
Meanwhile, make the orange vinaigrette: In a small bowl, whisk together the mustard, vinegar, orange zest, orange juice, salt and a few grinds of pepper. Whisk in the olive oil until emulsified. You will need 1/3 cup of the vinaigrette for this dish; refrigerate the rest for another use.
Peel and segment the orange, then coarsely chop the orange segments. Pour the vinaigrette into a large shallow serving bowl. Transfer the braised vegetables and some of their braising juices to the bowl, add the chopped orange segments and stir gently to mix well. Serve immediately.
*If you don't have a slow cooker, use an oven-proof casserole dish with a lid in the oven at about 300 degrees, or large, heavy bottomed pan on the stovetop on low. The timing of the dish will depend on the method you use.