Braised Chicken with Green Garlic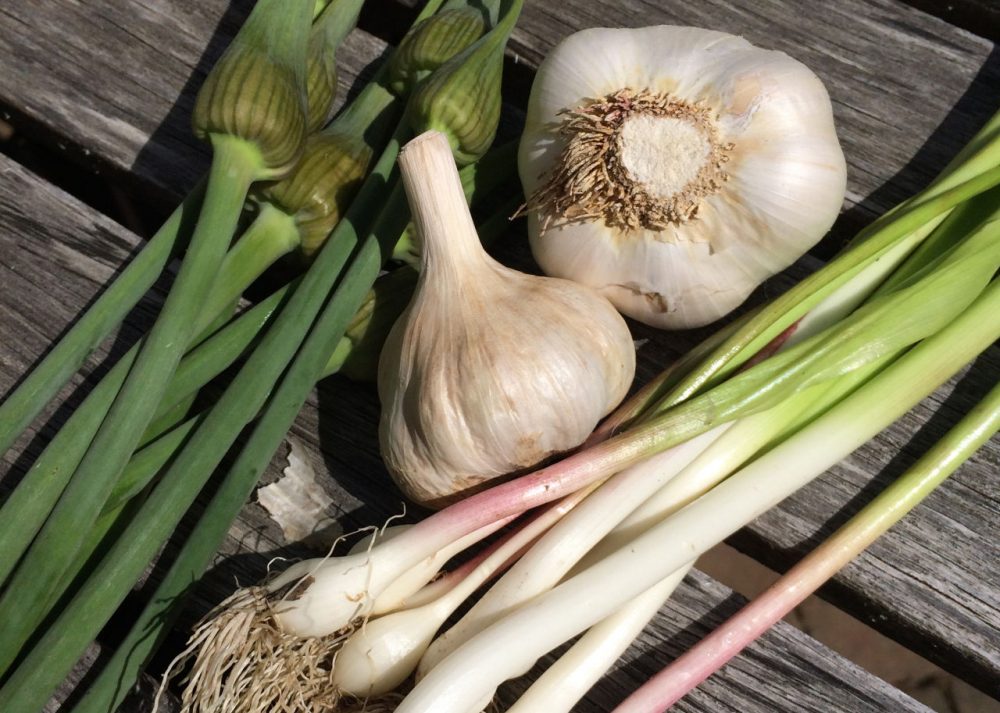 1 large chicken (about 4 pounds)
2 Tbsp butter
2 Tbsp olive oil
Salt and Pepper
1 cup water
3-5 stalks Red Dog Farm Green Garlic, trimmed and cleaned as you would a leek, and chopped
1 1/4 cups white wine
1 1/2 cups chicken stock
Cut the chicken into pieces. Melt the butter in the olive oil in a large skillet over med-high heat. Working in batches if necessary, add the chicken, season with salt and pepper, and cook until golden brown on one side, 6-8 minutes. Turn the chicken pieces and cook until golden brown on the second side, another 6-8 minutes. Transfer chicken to a platter; cover with foil, and keep warm. Pour the excess fat from the pan and discard (or use elsewhere).
Reduce the heat to medium, add the water and garlic, and cook until the garlic is soft and the water has almost evaporated, about 10 minutes. Add more water during cooking if necessary. Puree in a blender on high speed until very smooth; reserve.
Return the chicken to the pan and increase the heat to high. Add the white wine, chicken stock, and garlic paste and bring to a boil. Reduce the heat to low, cover, and simmer until the chicken can be easily skewered, 20-25 minutes. Season with salt and pepper. Transfer the chicken to a platter and cover with foil. Over high heat, reduce the sauce until slightly thickened. Pour the sauce over the chicken and serve.