Angela's Toasted Pumpkin Seed Salsa
This recipe comes to us from Angela, one of our dedicated and talented Group Lunch cooks.
Seeds from 2 acorn squash
3 roma tomatoes
1 large clove garlic
Chipotle in adobo to taste
2 tablespoons lemon juice
2 tablespoons sour cream
A shake of salt
Both Chris and Angela fell in love with the salsa at Nico's Tacos in Minneapolis, and staring at the remains of the squash innards from our Brunch Party Acorn Squash, it was time to try to replicate it.
Below is the end result, split in two bowls because Chris and Angela have a hard time sharing when it comes to salsa. Best to divide evenly in advance.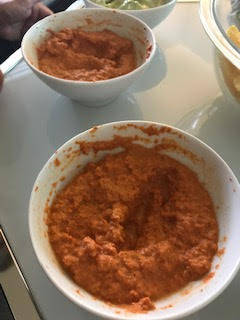 The next picture is the innards of the two acorn squash we used for the Brunch Party.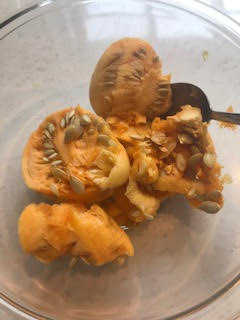 Pick up each squash-half in one hand, and pull out the seeds with the other, spreading them on a cookie sheet.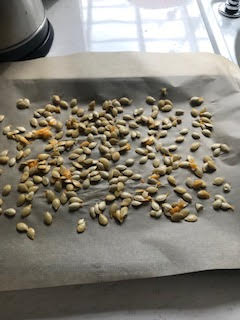 Bake for 16 minutes in a 350-degree oven to toast the seeds.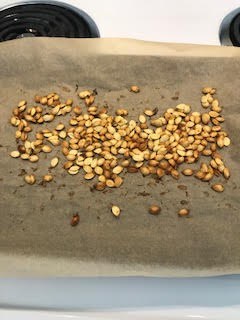 Cut 3 roma tomatoes in half, arrange on a cookie sheet, put a large clove of garlic in the middle, and char under the broiler. If you start to burn the paper as I did, remove from under the broiler and blast with a kitchen torch. (Angela with fire in the kitchen—hooray!)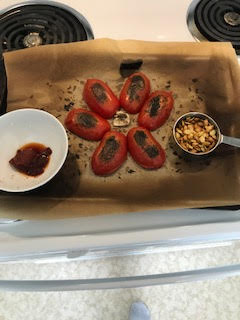 Dump all these things into the blender (squash seeds, garlic, tomatoes). Note that the seeds came to a bit less than 1/2 cup.
I don't roast my own chilis. I'll do a lot from scratch, but not that. I trust the kind people of Hatch, New Mexico to do it for me. For this recipe, I used a heaping tablespoon of chipotle in adobo that I bought in a jar at the co-op.
To the blender, add 2 tablespoons of lemon juice, 2 tablespoons of sour cream, and a shake of salt.
Puree in the food processor until smooth.
If you don't like spicy, add less chili in adobo. If you have more squash seeds, add another tomato. In other words, scale accordingly.