Rupert and Laura nap in the sun. photo by Camille Dohrn This warm, sunny weather has more than just us farmers humming to ourselves. Our local feathered friends also seem to be mighty content with themselves. A gulp of barn swallows (yes, that really is the name for a group of swallows!) has taken up residence in the eastern eaves of our barn. There are currently seven nests in that particular neighborhood, with 14 busy parents-to-be building on additions daily. The thrum of activity is so fun to watch, and is Ru and Maggie's favorite...
read more
It has been yet another fabulous farm week! This past week we welcomed a new crew member, Jillian. Jillian just moved here from Bend, Oregon where she was working as a ski instructor. She also very recently graduated from Cal Poly Tech, where she studied nutrition and got her hands dirty working at the college's Organic Farm. Jillian was drawn to Port Townsend because she had heard that it had an exceptional farm community and local food movement. Plus, the opportunity to live "so far North" was really appealing to her. In...
read more
Transformation in motion This week the farm has undergone a full transformation and it feels we have emerged into another phase of the spring season. Ben (pictured above) and Jeff spent cumulative days on the tractor spreading the basis of our applied fertility- chicken manure in the form of dried pellets known as Nutririch. After spreading, we follow with another tractor pass, this time tilling the manure into the soil. Then, we form the beds with a final pass of the tractor. Once the beds are ready, we get to plant! And plant we did this...
read more
  Ready, Set, Go! We are at that stage in the season where everything needs to be done at once: Transplant starts, seed starts in the greenhouse, irrigate, harvest, prep ground, move out and tag plant sales, go to market, pack CSA. Before we know it another week has gone by and more has gotten added to the to-do list than eliminated. Although there is so much to do, the highest priority this week is to plant stuff in the ground! Broccoli, cabbage, kales, collards, strawberries, lettuce, scallions and more HAVE GOT TO GO OUT! Last week, we got...
read more
Welcome to the 2014 CSA! All of us at Red Dog are pumped to see the season starting up again. We have a stellar Spring crew (pictured above), which includes back row: Jeff Hogue (Maintenance Lead); Ben Rutherford (Irrigation Specialist and returning for his 3rd year!); Scott Chichester (awesome farmer of 14 plus years, joining us to help with all things tractor-oriented and more); Karyn Williams (that's me, owner/ operator); and front row: Devon Rouch (Farmer's Market Lead and returning for his 2nd year); Alice Lee (Assistant Crew...
read more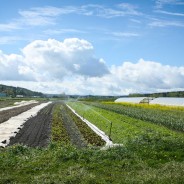 Although it still feels like winter, I am finding myself longing for and anticipating spring. This warmer, wetter weather system feels like a blessing, thawing out the frozen ground and plants, recharging the ground water, filling the creek. The dry, sunny winter has been nice, but this rain of late feels comfortable and reassuring. As I look toward the creek, there are pools of standing water in all the lowest spots, which the seagulls, ducks and swans seem to be enjoying immensely. After the winter "drought", the rain is a...
read more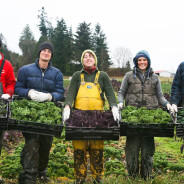 WREATHS/ Made by Chimacum resident Sebastian Edgerton with an assortment of evergreen species. Priced $11- 18 (25% off original price!) POTTERY/ Hand-made pottery crafted by Judy Williams (Karyn's mom). Beautiful assortment of mugs, cups, bowls, honey pots and more. Many are imprinted with the Red Dog Farm logo! Priced $8- 20. TRUCKER HATS/ Emblazoned with the Red Dog Farm logo. $15 each. DOG BUCKS/ (aka Dog Bones) Everyone appreciates gifts of good health, and what could be healthier than local, organic produce? Available in $25 or $50...
read more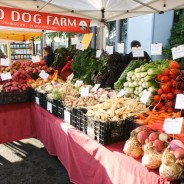 A big hearty thank you to all of you in our community for your support, love of organic vegetables and local agriculture, positivity and friendship! It has been a wonderful year at Red Dog Farm. We were so blessed with the amazing weather as well as all of you! There is much to be thankful for. Below are just a sampling of thankful thoughts that spring to mind: Compadres- Getting to work with fabulous people- the 2013 crew was top notch in both attitude, ability and fun. Thanks guys! Chimacum– Every day I live and farm here I continue...
read more