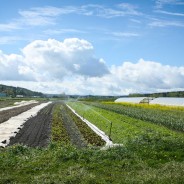 Although it still feels like winter, I am finding myself longing for and anticipating spring. This warmer, wetter weather system feels like a blessing, thawing out the frozen ground and plants, recharging the ground water, filling the creek. The dry, sunny winter has been nice, but this rain of late feels comfortable and reassuring. As I look toward the creek, there are pools of standing water in all the lowest spots, which the seagulls, ducks and swans seem to be enjoying immensely. After the winter "drought", the rain is a...
read more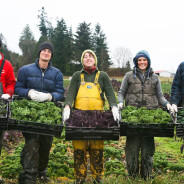 WREATHS/ Made by Chimacum resident Sebastian Edgerton with an assortment of evergreen species. Priced $11- 18 (25% off original price!) POTTERY/ Hand-made pottery crafted by Judy Williams (Karyn's mom). Beautiful assortment of mugs, cups, bowls, honey pots and more. Many are imprinted with the Red Dog Farm logo! Priced $8- 20. TRUCKER HATS/ Emblazoned with the Red Dog Farm logo. $15 each. DOG BUCKS/ (aka Dog Bones) Everyone appreciates gifts of good health, and what could be healthier than local, organic produce? Available in $25 or $50...
read more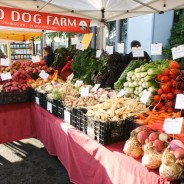 A big hearty thank you to all of you in our community for your support, love of organic vegetables and local agriculture, positivity and friendship! It has been a wonderful year at Red Dog Farm. We were so blessed with the amazing weather as well as all of you! There is much to be thankful for. Below are just a sampling of thankful thoughts that spring to mind: Compadres- Getting to work with fabulous people- the 2013 crew was top notch in both attitude, ability and fun. Thanks guys! Chimacum– Every day I live and farm here I continue...
read more