Farmers Market Manager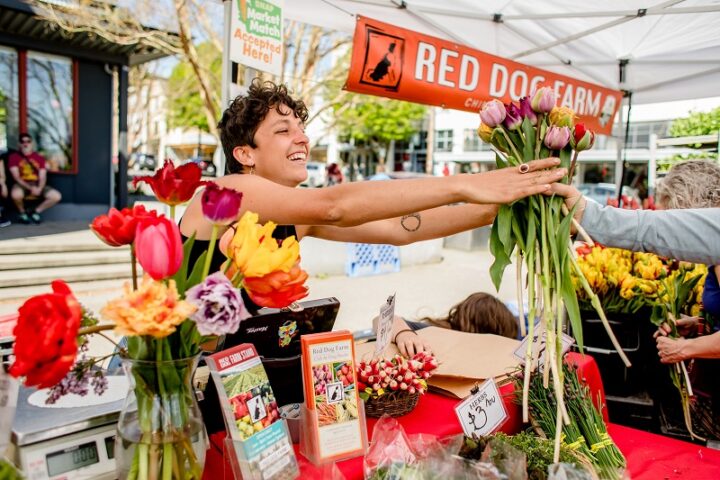 Apply for our Farmers Market Manager now!
About our 2024 Farmers Market Manager Position
Full Time: 24-40 hours per week (full time preferred)
Seasonal: March- December
Schedule:
March- May: Tuesday- Saturday
June- October: Thursday or Friday- Monday
November- December: Tuesday- Saturday
We are looking for a friendly, professional individual to run our twice-weekly farmers market booths at Port Townsend Saturday and Chimacum Sunday markets. The ideal applicant would have excellent customer service skills, be adept at multi-tasking, be able to train and lead co-workers in all market tasks, possess produce handling skills, and have excellent verbal and written communication skills.
If full time work is desired, position would include harvesting, washing and packing, deliveries, and a variety of other field work.
Applications are reviewed as they are received.
Responsibilities
Operate two weekend fast-paced farmers markets- managing product, staff and sales
Lead loading, transportation, delivery, and setup of the market booths
Manage a constantly changing, aesthetically beautiful produce display
Provide excellent customer service
Handle cash in a fast-paced environment
Maintain sales record sheets and be accountable for till reckoning
Train and manage the work of two other farmers market staff
Communicate regularly with the farm owner and farm manager
Make deliveries to accounts, ensuring orders are complete
Background and Skills
Excellent customer service skills
Excellent verbal and written communication skills
Experience working with a team and managing a group effectively
Experience with retail produce display
Ability to do mental math, without use of a calculator
Ability to operate high volume farmers market booths
Must have a clean driver's license and be comfortable driving large trucks
Must be capable of handling physically demanding work for extended periods of time
Ability to work outside in all weather conditions
Flexibility to adapt to changing situations
Compensation
$18-20 per hour DOE, as well as veggies from our fields. Paid sick leave (one hour for every 40 hours worked). Time-and-a-half overtime pay for hours over 40 per week. Gear stipend for full-time workers. Weekly group lunch with all farm employees. Housing is not included, but we help new hires find housing by posting flyers and reaching out to our connections in the community. Employees who return for multiple seasons will receive an annual performance-based raise as well as an opportunity to increase/ refine responsibilities matching their commitment to the farm.